This post is also available in:
Suomi
Pastitsio is the Greek version of lasagne. A really delicious and juicy dish for pasta lovers.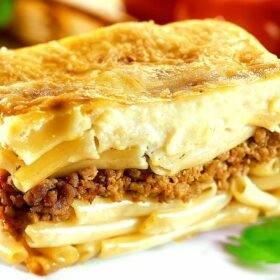 Ingredients
Bechamel sauce
2

tablespoons

butter

2

tablespoons

of wheat flour

3

dl

whole milk
Meat sauce
500

g

ground beef

2

onions

4

cloves

of garlic

3

dl

tomato paste

10

green olives

5

tbsp

dark balsamic vinegar

2

dl

meat stock

2

teaspoons

dried oregano

3

tbsp

olive oil

1

teaspoon

salt

2

teaspoons

black pepper
Instructions
Take pasta in 2 parts (for layering at the end) and bring to brisk boil in salted water. The pasta should remain very crispy.

Chop the onions and olives as finely as you can. Put a large pan on the stove, add the olive oil and onions. Start to gently sear.

Take the meat to a chopping board and chop with a large knife. When the onion starts to turn yellow, add the meat to the pan.

When the meat starts to colour, season the sauce with balsamic vinegar, salt and pepper. Swirl for a moment and add the olives, oregano, meat broth and tomato paste. Cover and leave to simmer gently.
Make the béchamel sauce like this:
Heat a saucepan and melt the butter. Heat and add the butter, sprinkle in the flour and start whisking in the milk. Bring to a boil and remove from the heat.

Heat the oven to 210C. Choose a suitable baking tray. Cut the garlic cloves in half and pull the cloves against the surface of the pan. Leave the cloves in the pan. This will give the dish a wonderful garlic flavour.

Once the pasta is boiling, carefully strain the water out. Combine the tube pasta and the béchamel sauce in a saucepan. Stir well.

Place half of the pasta in the bottom of the pan. Then make a layer of the meat sauce and pour the rest of the pasta on top. Carefully level the pasta.

Bake the pastitsio in the oven for 30 minutes until the surface is slightly coloured.

Let the pasta rest on the table for a while and enjoy.
Do you have a recipe?
Share it to the world with us. With valuable backlink. Read more here Leave a recipe!
Last Updated on May 21, 2022 by Flavorado
This post is also available in:
Suomi